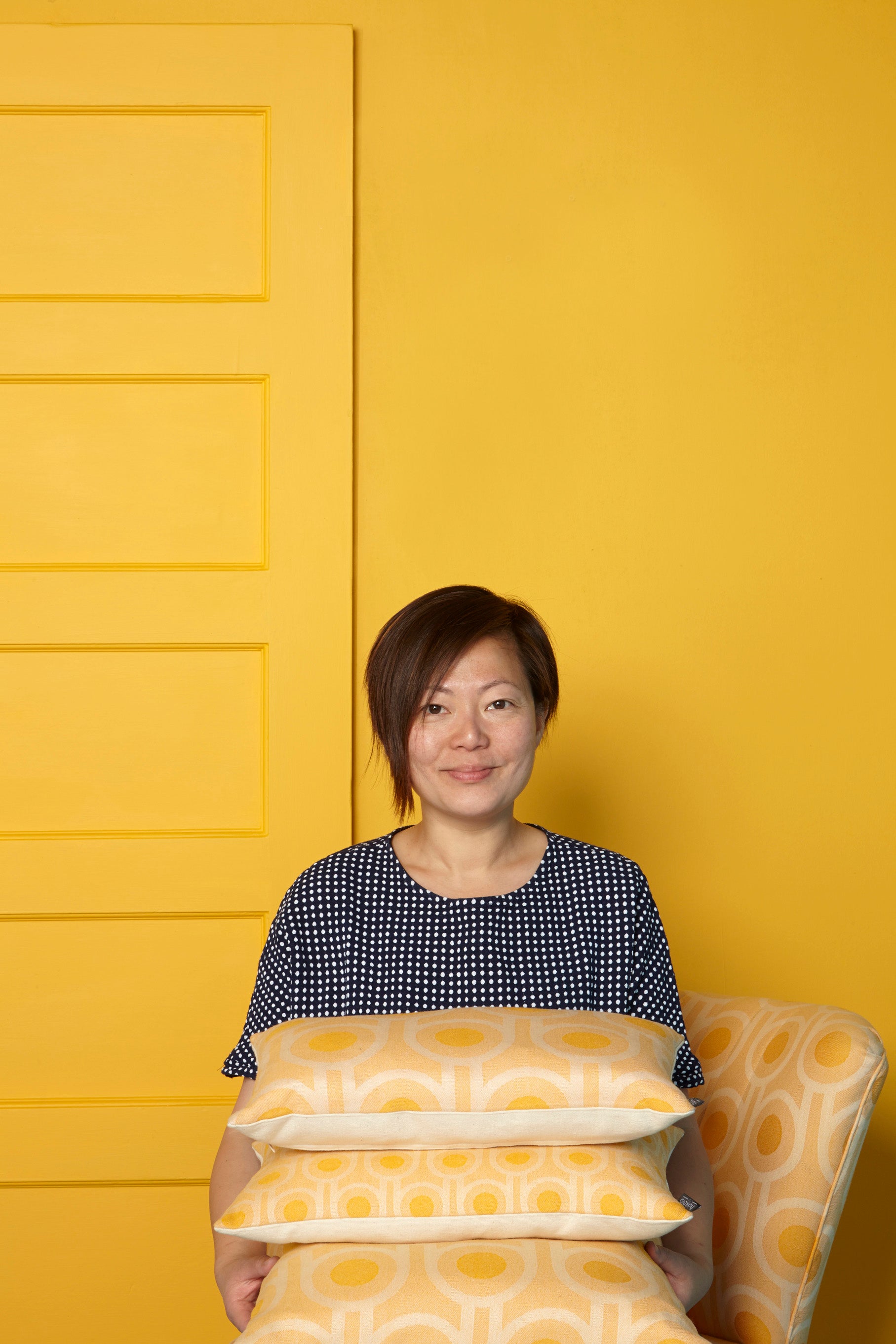 Hokolo is a London based design-led brand founded by Jen Taylor, an architect turned surface pattern designer with a love of bold colours, patterns and beautifully designed everyday objects.
Hokolo is an amalgamation of Hong Kong and London. Originally from Hong Kong, Jen's designs celebrate some of the most novel aspects of her adopted Great Britain.
"It is my firm belief that good design can and should be part of our everyday lives. My designs are inspired by some of the many things I love about the UK. And I like to keep my work witty and light-hearted. Well-designed well-made products, that don't take themselves too seriously, can really lift the spirit. I hope that my customers will enjoy them – as gifts or by treating themselves."

Find out more in Jen's interview with Homegirl London and the video of Jen talking about her brand.
SUBSCRIBE TO OUR NEWSLETTER AND ENJOY 10% OFF YOUR FIRST PURCHASE
Please check your inbox / junk folder for the newsletter signup confirmation email. We will then email the discount code straight over to you.
The narratives behind Hokolo's unique striking prints and patterns create nostalgic and playful connections.
Interior Design & Architecture
Jen is a qualified architect. Alongside running Hokolo design studio, Jen carries on pursuing her passion for interior designs and architecture.
hokolo_london Visited the beautiful Norfolk/Suffolk for our staycation. Check out these colourful beach huts @southwold_pier...Have anyone been to The Under The Pier Show? It's hilarious, with arcade machines such as Mobility Masterclass (aka crossing the road on a simmer frame) to Whack a Banker 🤣...Check out more photos over on @hokolo_travel .....#hokolotravelogue #travelogue #travelphotooftheday #travelislife #travelcommunity #wanderluster #roamtheworld #travelandexplore #traveladdiction #instatraveller #travelblogging #travelstroke #travel_capture #igtravelworld #travelgram #livetotravel #travelinspiration #wheretogonext #mytravelpics #borntotravel #visualscollective #bevisuallyinspired #creativeoptic #acreativevisual #seaandsky #beachlife #englishpier #englishseaside #southwoldpier #beachhutAUGUST 4 • View on Instagramhokolo_london Visited the beautiful Norfolk/Suffolk for our staycation. Check out these colourful beach huts @southwold_pier...Have anyone been to The Under The Pier Show? It's hilarious, with arcade machines such as Mobility Masterclass (aka crossing the road on a simmer frame) to Whack a Banker 🤣...Check out more photos over on @hokolo_travel .....#hokolotravelogue #travelogue #travelphotooftheday #travelislife #travelcommunity #wanderluster #roamtheworld #travelandexplore #traveladdiction #instatraveller #travelblogging #travelstroke #travel_capture #igtravelworld #travelgram #livetotravel #travelinspiration #wheretogonext #mytravelpics #borntotravel #visualscollective #bevisuallyinspired #creativeoptic #acreativevisual #seaandsky #beachlife #englishpier #englishseaside #southwoldpier #beachhutAUGUST 4 • View on Instagramhokolo_london Visited the beautiful Norfolk/Suffolk for our staycation. Check out these colourful beach huts @southwold_pier...Have anyone been to The Under The Pier Show? It's hilarious, with arcade machines such as Mobility Masterclass (aka crossing the road on a simmer frame) to Whack a Banker 🤣...Check out more photos over on @hokolo_travel .....#hokolotravelogue #travelogue #travelphotooftheday #travelislife #travelcommunity #wanderluster #roamtheworld #travelandexplore #traveladdiction #instatraveller #travelblogging #travelstroke #travel_capture #igtravelworld #travelgram #livetotravel #travelinspiration #wheretogonext #mytravelpics #borntotravel #visualscollective #bevisuallyinspired #creativeoptic #acreativevisual #seaandsky #beachlife #englishpier #englishseaside #southwoldpier #beachhutAUGUST 4 • View on Instagramhokolo_london 💥Final reduction, 30% off. Sale must end 4Aug. Shop link in profile....Hokolo Benedict woven wool cushions in 2 patterns, 2 colourways and 2 sizes....The fabric is woven in Scotland from 100% pure new wool in our signature geometric pattern. The jacquard sateen weave structure gives the fabric a nice soft sheen and superb drape. The fabric is suitable for light weight upholstery, curtains, blinds and soft furnishings......#colourlovers #colourpop #patternlove #woolcushion #midcentury #midcenturymodern #mymidcenturyhome #retroliving #hokolo #cozyhome #homestyle #homestyling #textilelove #ihavethisthingwithtextiles #softfurnishings #interiorsinspo #geometricpattern #cozycorner #myhyggehome #ihavethisthingwithyellow #ihavethisthingwithcolor #yellowmellow #colourmyhome #yellowlover #yellowisthenewpink #happycolours #midcenturymodernhome #modernhome #livingroomgoals #interiorloversAUGUST 2 • View on Instagramhokolo_london 💥Final reduction, 30% off. Sale must end 4Aug. Shop link in profile.... Set of 4 giclee prints. These giclee prints come in 8 different designs which can be display as a single print or a tiled display of mutiple prints depending on your wall size. They are sold unframed but will fit into a standard @ikeauk picture frame so you won't break your bank framing them..⠀.⠀.⠀.⠀.⠀#hokolo #patternlove #geometricpattern #surfacepattern #surfacepatterndesign #printandpattern #gicleeprint #repeatpattern #patterndesign #patternobserver #patternplay #patternlover #patterninspiration #myhomestyle #myhomedecor #ihavethisthingwithcolor #colourliving #colourmyhome #colourlovers #artprint #wallart #homeideas #graphicart #wallartdecor #retroart #retrohome #ihavethisthingwithprints #midcenturydesign #retrokitchenAUGUST 2 • View on Instagramhokolo_london 💥Final reduction, 30% off. Sale must end 4Aug. Shop link in profile....Hokolo woven lambswool blanket made in Scotland......#colourlovers #colourpop #patternlove #blueblanket #midcentury #midcenturymodern #mymidcenturyhome #retroliving #hokolo #cozyhome #homestyle #homestyling #textilelove #ihavethisthingwithtextiles #softfurnishings #interiorsinspo #geometricpattern #cozycorner #myhyggehome #ihavethisthingwithblue #ihavethisthingwithcolor #colourmyhome #bluelover #blueaesthetic #happycolours #cosyblanket #modernhome #livingroomgoals #interiorloversAUGUST 2 • View on Instagram
Powered by AZEXO Shopify page builder